Modern day designers are not just focused on making complex inventions; in fact they are concentrating on those things which matter to a common person in his routine life. It is being said that life is all about living each and every moment and you can do this only if the environment around you is pleasant and cheerful and this you can do by bringing small changes in your life. These small changes include replacing the old boring light lamp with the designer and stylish light lamp or by surprising your friends by showing them shoes which change color.
Here is a list of some creations for which we all will be grateful to the designers who created them.
1. Five in One
Nowadays people like to purchase furniture which is not only stylish but also saves space. This cube shaped box can be used by one person for sitting but if the need arises, this seating box can be divided into five seating stools. So if there is no requirement of five seating stools, it can be packed into one seating box and a lot of space will be saved.
2. Know the directions
While a stick can give support to a person as he walks, compass is pretty helpful in situations when the traveler has to find the directions. A designer has come up with a wonderful solution of bringing these two things together by making a walking stick which has a built-in compass.
3. Light that looks like sunset
Enjoying sunset at a beach is a dream of many but till you don't get a chance to live it in real, you can get this experience at your home just by installing this light in your home. A designer has come up with this beautiful creation which gives a feeling of sunset when lightened up.
4. Multiple lawns in middle of the city
The greenery in our cities is decreasing day by day which is severely affecting the environment and having an adverse effect on the health of citizens. However, a designer has come up with a great solution as he has designed small lawns with benches which will not only increase the greenery in the city but also provide the citizens with the option to sit and take rest.
5. Save Water
Water is a necessity for humans and despite the fact that we understand its importance; we are not doing much to save it from getting wasted. The water resources are getting dried up and it won't be wrong to say that one day people may fight with each other for water. This is definitely one of the best ways to reduce water consumption as the water which will be used for washing hands will also be used for flushing, resulting in maximum use of water.
6. When holding mobile phone becomes tiresome
We tend to spend a lot of time with our mobile phones as we can not only talk and chat with them but we can also watch movies on our mobile phones. However, it is impossible to hold mobile phones with our hands for the whole time while watching movie and this is where this mobile holding stand comes handy.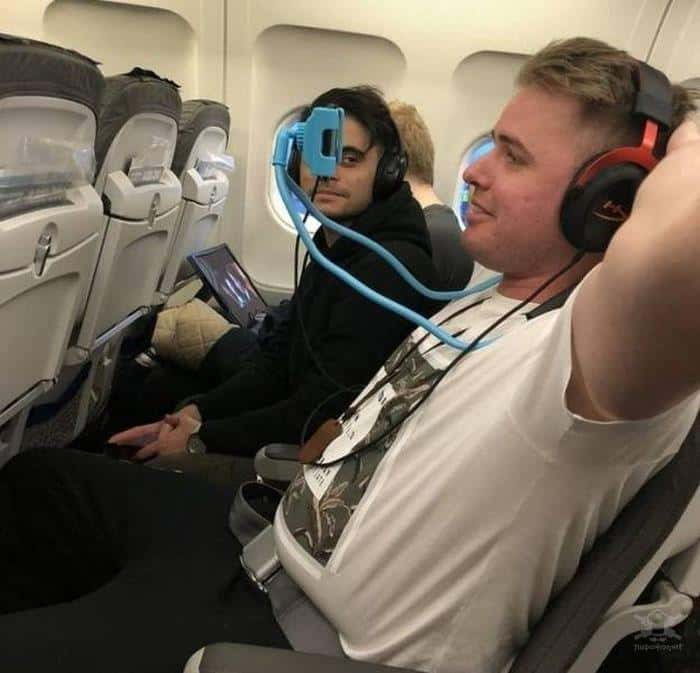 7. Traffic light or sword of Jedi
Traffic lights are same almost everywhere in the world but these traffic lights in Ukraine are quite classy and unique. The rods of these traffic lights also light up and give an impression that it is not just a traffic signal light but a sword of a Jedi.
8. The tap tells about the water
Many times we get confused as which tap will release hot water and which one will release cold water; here is a beautiful solution to this problem of ours. This tap will tell very clearly when it is releasing hot and when it is releasing cold by changing its color. As you can see, the tap is lighted in two colors, blue and red, blue must be for cold water while red must be for hot water.